The 15-year-old girl who alleged that three men gang-raped her in Mumbai.    (Accused of gang rape, abduction and wrongful confinement)In March this year, a 15-year-old girl, resident of Ikri Basiyani village in Budaun's Allapur area, alleged that she was abducted by three persons, identified as Shivender Yadav, Madan Lal and Ravinder Singh, from the same village and taken to Mumbai where she was raped by them. She was later brought back to Budaun after which she approached the police and narrated her ordeal. Based on her complaint, the police registered a case under Section 363 (punishment for kidnapping), 366 (abducting a woman to compel her for marriage), 376D (woman raped by one of more persons), 342 (punishment for wrongful confinement) of the IPC and the POCSO Act.On March 7, the girl's parents registered an FIR stating that one of their relatives saw Shivender taking the girl away on a motorcycle on March 6. They hadn't mentioned presence of Madan Lal or Ravinder.The girl returned to Badaun on March 10 and the next day she was taken to police by her parents.Inspector R.P. Sharma, Station House Officer of Allapur police station, said that the girl, in her statement under 161 CrPC (examination of witness by police), said that she had gone on her own and wanted to be with Shivender as the two were in love. "She said that they had gone to Mumbai. They came back because of their families' pressure. The whole conversation was recorded," says Mr. Sharma.However, four days later, when the girl was produced before a magistrate for her statement under Section 164 CrPC, she allegedly changed her statement and said she was abducted in the afternoon and taken somewhere in a four-wheeler. "I lost consciousness when I was abducted, but when I woke up, I saw Shivender, Madan and Ravinder. They had raped me. They told me we were in Mumbai. I don't remember anything else happened with me till I came back home," she allegedly told the magistrate.Shivender surrendered on March 31. He is behind the bars.However, the police did not arrest Madan Lal and Ravinder because "investigation revealed that they were not present in Budaun or Mumbai from March 6 to March 10," said Inspector Navi Hassan, the investigating officer in the case. Ravinder's mobile phone was traced to Hapur and Madan's phone was in Noida, where they work as labourers, at the time of the alleged crime.How are the three connected? People in Ikri Basiyani village said that Shivender and Madan are close friends and the two know Ravinder as they all grew up together before moving to different cities for work. Inspector Hassan says "secret investigation and informers in the village also told us that the victim was in a relationship with Shivender, and Madan and Ravinder weren't in the village".Over a month later, in the third week of April, the girl, staying at her elder sister's house 6 km away from the village, said, "If he (Shivender) too was a Muslim, there would not have been any problem. We could have got married in court." However, the girl is unaware that it wouldn't have been possible as she is a minor.Incoherent in her version of events, the victim says she was in a relationship with Shivender for over two years but for the past few months, she had decided to end it. When questioned about her ordeal in Mumbai and the subsequent statement to the police, the girl said, "Mera dimaag kharab ho gaya tha, mujhe kuch nahi pata, par maine un teeno ko dekha tha (I wasn't in my senses. I don't know what happened, but I remember seeing the three of them)".After her return, she says, her father cried in front of her for hours and "made her understand". "He scolded me for what I'd done," she says hinting at a monetary transaction of ₹2 lakh that took place between her family and Shivender's.In the village, the residents alleged that the reasons behind slapping charges against Madan were personal and against Ravinder politically motivated.Ravinder's father Mulayam Singh says that two adjoining villages vote to elect one village pradhan. "Our village is Muslim dominated and the adjoining village is Hindu dominated. The Hindus from both the villages vote for the Hindu candidate. The Muslims of this village don't like when we vote for the Hindu candidate of the other village, resulting in the defeat of the Muslim candidate of our village," he says.Mr. Mulayam claims that he has a significant clout in his village, therefore people vote according to his advice. "This is the reason they named my son as an accused," he alleges.As for Madan, the villagers claim he was Shivender's close friend and had come for his sister's wedding in February after which he was there till the first week of March. "The girl (complainant) knew Madan very well," says Madan's brother Ajay Pal.Shivender's mother Somvati says she was aware of her son's relationship with the girl and had asked both to end it but they didn't listen. "I caught the two on our terrace last year and thrashed both of them before taking her back to her house. Even when Shivender and the girl eloped, her father came to my house and asked me to make them come back; he just wanted the girl back," she says.It was Madan's father, Ms. Somvati claims, who spoke to Shivender and persuaded him to return to Budaun from Mumbai after which he handed the girl over to her parents.Madan and Ravinder could not be contacted.Satish Singh (53), Ravinder Singh (58) and Rambeti (50) At the office of Budaun's Senior Superintendent of Police, a list is being displayed every Monday for the last three weeks. The header says, "Vivechna me jhoote paye gaye aaropiyon ka vivran" (List of people who've been found falsely accused during the investigation). Simply put, the officers, during the preliminary investigation, found that these people were wrongly accused by the complainants for various "motives". So far, the number stands at 284.SSP Ashok Kumar, who joined the district in March, says that he is aware of a lot of false complaints, motivated by personal enmity or monetary gain. This was one of the reasons for coming up with such a list, he says. Eliminate corruptionAlso, another reason, he says, is an attempt to eliminate corruption in the force and bring in 'transparency'. "People get falsely accused in cases and then turn to investigating officers to clear their name with the help of money. By this list, they already know that their names are cleared and they don't offer anyone money to save themselves the trouble of coming to police stations or go for court hearings," he says. "The middlemen who throw their weight around saying they'll help them in the case will also be eliminated," he adds. The investigating officers are given a week for the cases registered during the seven days to conclude if they've found any persons who were wrongly accused. However, if their role surfaces in the crime later, they can be arrested, says Mr. Kumar. The Hindu spoke to victims and accused in three such criminal cases on charges of gang rape, murder, kidnapping, abetment to suicide among others. Two of these claimed that the motive behind the alleged framing was caste and religion. In the third case, however, the victim's family alleged that the police had been bribed to turn the case in favour of the accused. The cases also show how the Uttar Pradesh Police conducted the investigation.Prashant Arora (30)(An accused in the gang rape and murder of a 15-year-old in 2014)Sitting on a plastic chair in his two-storey house, Prashant Arora looks at his three-year-old daughter and says he was in the district jail when she was born on November 25, 2014. His wife was seven months pregnant when he was arrested.Prashant was arrested on charges of raping his neighbour, along with two unidentified men, at his residence and subsequently poisoning her. The police had registered a case under Section 376D (woman raped by one or more persons), 302 (punishment for murder), The Scheduled Castes and Tribes (Prevention of Atrocities) Act, 1989, and The Protection of Children from Sexual Offences Act, 2012 (POCSO Act).After the victim's family approached the police on the day of the incident on September 23, Prashant was picked up the same night and arrested the next day. The two unidentified men have not been traced.Widely reportedThe story made it to the headlines in the regional papers and was widely followed for the next few days.Circle Officer (City) Virendra Singh Yadav, who, at first, was surprised to see Prashant's name in the list as a DNA report is awaited in the case, said that the victim's father, in a written complaint, told the police that Prashant, along with two other persons, locked the girl inside his residence, took turns to rape her and then poisoned her. "The girl's brother heard her shouting for help and ran to call their mother. The family came, rescued the girl and took her to the hospital where she succumbed to her injuries," he said, reading from the complaint signed by the father.An Inspector, on condition of anonymity, said that Prashant was arrested "because there was pressure from the media to solve the case".During the course of investigation, the police claimed, Prashant's boss was questioned who admitted that the accused was with him in the afternoon. Prashant's wife Sonam, who was away at a relative's house on the day, told the police that she was with him till around 5 p.m. doing household chores. "His location, through his phone, was also traced in the city area," Mr. Yadav said.The girl's post-mortem report, seen by the reporter, states: "No internal or external injury on the vaginal wall. Blood with froth from mouth." The doctors told the police prima facie the victim wasn't raped. However, the report stated that the cause of death could not be ascertained after which her viscera was sent for examination. The viscera report, which came a few months later, stated that no poison was found, Mr. Yadav said, adding that during further questioning of the neighbours, another story of the girl being bitten by a snake came to the fore but there's no evidence to support it.Over three years later, the girl's family continues to believe that she was raped and want Prashant behind the bars. They allege that the police fraudulently took the signature of the girl's father on the complaint. "They came in the evening and asked me to sign on a paper. I am illiterate. I later came to know that it was the complaint," said the 50-year-old father, a sanitation worker.The victim's 17-year-old brother told this reporter that he heard his sister screaming for help and went to the other side of the house to see if she was inside the Arora household. "I saw that Prashant's father Manohar Arora was pushing my sister out of his house and putting her inside ours. I immediately went to call my mother. By the time we came back, she was lying on the floor in our house. I thrashed Manohar and took my sister to the hospital," he claimed, adding that this is what he told the police as well. Mr. Yadav, however, denied that the victim's family mentioned Manohar Arora's presence. "I don't know why they did not question Manohar," said the 17-year-old.The reason for the girl's death still remains unknown and what happened with her is still a mystery.Prashant, on the other hand, says that his life turned upside down because of the case. He was lodged in jail for nearly three months and after his release under Section 169 CrPC (release of accused when evidence is deficient), he is finding it difficult to get back to normal life.Life affected"My friends had completely cut off with me. Our relatives were constantly calling my mother to ask if I had done it. Eventually, I got my relatives and friends back but it's still not the same," he says.The 30-year-old says that he received the news of his daughter's birth a day later and his biggest regret is not to be there with his wife at that time. "I saw her photograph when my mother came to visit me in jail. I remember throwing a party that day; gave samosas and cold drinks to all the inmates," he smiles with tears rolling down his face.His mother, 58-year-old Chandrakanta Arora, a government employee, claims that the reason the neighbours accused Prashant is the regular fights between the two families. "They belong to the Scheduled Caste and we are Punjabis. Most people in the area are SC. For some reason, this family always held it against us. We didn't like that they used to leave cattle right outside our house. There were a lot of fights over that," she said.Ms. Chandrakanta says that due to the disgrace, all of them had to move out of the locality and live in the government quarters allotted to her a few kms away at the outskirts of Budaun. "We came back around Diwali on the insistence of a few neighbours who had also given their statements in our support," she adds.Madan Lal (25) and Ravinder Singh (24)  (Accused of abetment to suicide)On February 6, 28-year-old Usha Devi was found dead at her residence in a village called Aamgaon in Budaun. Her husband Ankit Singh, whom she had married eight years ago, and his family alleged that she committed suicide by pouring kerosene and setting herself on fire. The woman's family, however, said that she was murdered by Ankit's family allegedly because they couldn't meet their demand for ₹2 lakh.Two days later, the police registered a case of abetment to suicide and arrested Ankit. However, three accused in the case – Ankit's uncle Satish Singh, father Ravinder Singh and mother Rambeti – were let off the hook after preliminary investigation. They are now in the list of people who were "falsely accused" in this case.Demand for moneyUsha's brother Dharmendra, a driver in Nagla Shikari village, says that the victim had visited their house a week before the incident and told the family that she was subjected to immense torture by Ankit's parents and other family members who used to beat her. "They demanded ₹2lakh from us for construction of their house. We told them we don't have that much money. Then Ankit came and took Usha back saying we can discuss it later. Within a week she was murdered," he alleges.Dharmendra claims that Ankit's family did not want to inform Usha's family about her death. "My daughter stays close to their house. She called us and we reached within an hour," he says. Mr. Dharmendra and his family then approached the police the same day and alleged murder. "The police told us that they'll first get the post-mortem done. The next day, the post-mortem was conducted but they said their computer wasn't functional. They registered our FIR only two days later and that too under Section 306 (abetment to suicide), not murder or dowry death," he alleges, adding that the police were bribed by Ankit's family.Responding to the allegations, Circle Officer Mr. Yadav says that they had checked Satish's location and he was found to be away in Ujhani. "The neighbours were questioned. One of them admitted that Usha had come to take kerosene from her. Another said that she saw Usha setting herself on fire and rushed to the house to save her," he says.Ravinder and Rambeti say that they weren't present in the house at the time of the incident. According to them, on the day of the incident, Ankit had come home for lunch. When he asked Usha for food, she allegedly said she hadn't cooked after which he slapped her twice and left the house. Satish claims he wasn't in the village. His claim is corroborated by the police. Mr. Yadav says Ankit was arrested because he slapped Usha right before she allegedly committed suicide.When the neighbours were asked by the reporter whether anyone saw Usha setting herself on fire or whether the family tortured her, their response was, "We don't know anything". (Clockwise from Left) Satish Singh, Ravinder Singh and Rambeti, relative and parents respectively of Ankit Kumar; U.P. police personnel arranging the list indicating the names that have been deleted from the accused list; Prashant Arora, who was accused of raping and killing a minor in 2014; the 15-year-old girl who alleged that three men gang-raped her in Mumbai.  
read more
What do they say: cometh the hour, cometh the man?He's scored better goals, Mohamed Salah. On bigger stages and in better performances, too.For Liverpool, though, the Egyptian's latest strike was a priceless one. It opened a door that had looked set to remain locked; it gave his side a platform from which to record yet another Premier League victory. It keeps the Reds on the heels of Manchester City at the top of the table. Article continues below Editors' Picks Man Utd ready to spend big on Sancho and Haaland in January Who is Marcus Thuram? Lilian's son who is top of the Bundesliga with Borussia Monchengladbach Brazil, beware! Messi and Argentina out for revenge after Copa controversy Best player in MLS? Zlatan wasn't even the best player in LA! Watford away was a tricky way to start, in Jurgen Klopp's words, "the most intense period of the season" but Liverpool got the job done here. Again. Salah's strike, midway through the second half, was added to by Trent Alexander-Arnold's sublime free-kick soon after and by Roberto Firmino's late header – his first league goal in more than two months. Not even a late red card for Jordan Henderson could take the shine off a more than decent victory on the road.In the end, it was comfortable, even if for large periods it felt anything but. The Liverpool machine keeps on rolling. If they were average in the first half here, they were ruthless after the break. They ground their opponents down, and punished them like proper teams do.What must they make of Klopp's men over at the Etihad, one wonders? As Pep Guardiola's City run through their obstacles with ease, routing West Ham 4-0 at the London Stadium on Saturday, Liverpool stutter and get their feet caught and yet still find a way to drag themselves over the line, week after week. Their only dropped points this season have come against City, and away to Arsenal and Chelsea. Thirteen games, 10 wins, 33 points. It's been a terrific start for the boys from Anfield. And so the gap at the top remains just two points, between a side playing extra-terrestrial football and one still searching for its best. Go figure!The records continue to tumble. This is officially the best ever start, defensively, that Liverpool have made to a league season. A backline which has conceded just five goals from 13 games will always give them a chance to win when below their best.Here, we got the perfect example. Watford battled and grafted, but they were hardly given a sniff by Virgil van Dijk & Co. Alisson Becker made one save, from Gerard Deulofeu, but was otherwise redundant. He could have nipped out and done his Christmas shopping after the break.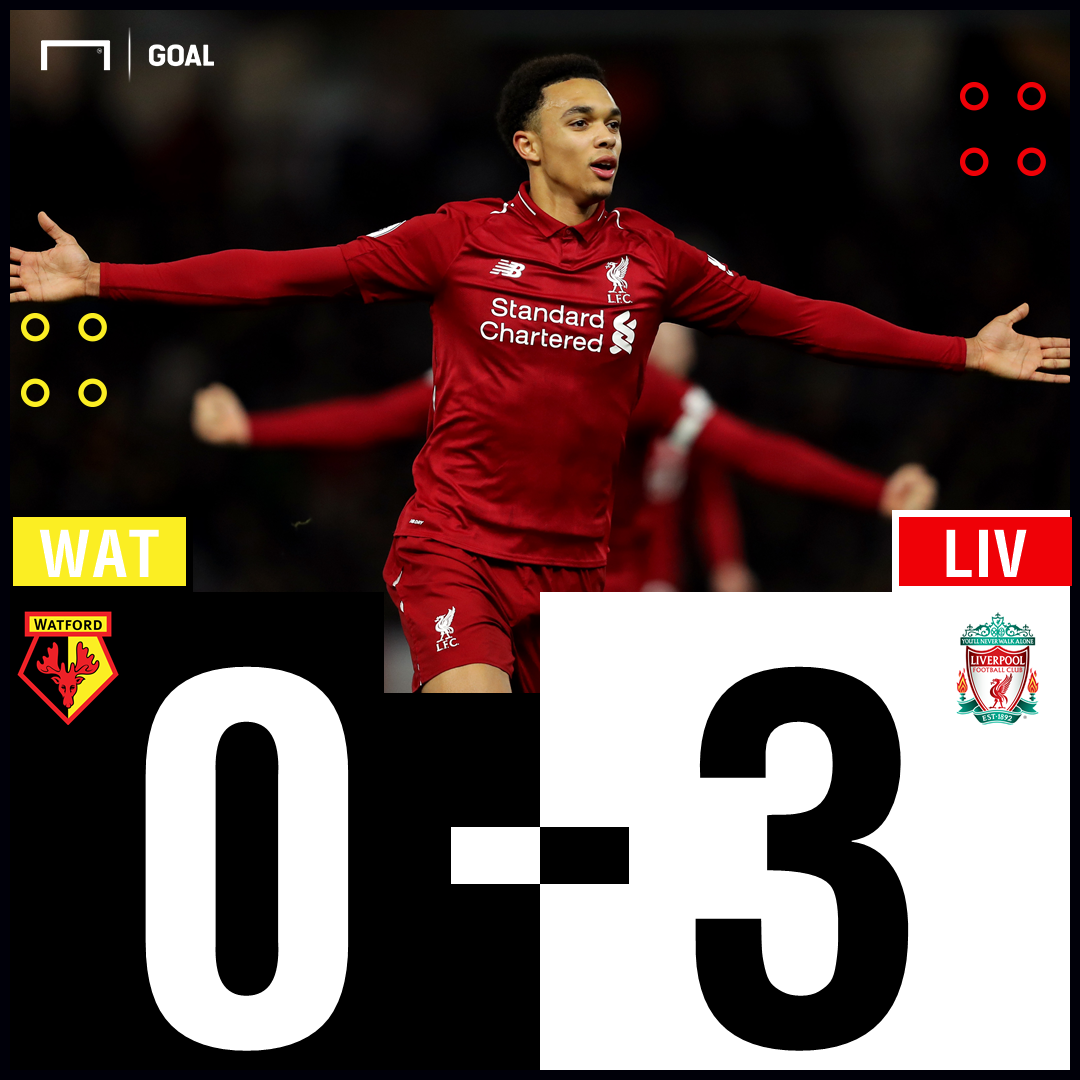 It meant the visitors could wait, bide their time until something clicked at the other end. It usually does, and it did again.Sure, it took 67 minutes but it was worth the wait; Firmino in to Mane, back for Salah, 1-0. Ben Foster had denied them before that, he was Watford's best player, but he could do nothing this time.Suddenly, Liverpool's 'one-season wonder' has nine goals for the campaign. Salah's shift from a right-sided forward to a more central striker has been notable in recent weeks, but it has coincided with a return to something like full sharpness. Here, he was lively even when his team were not, and his ability to provide decisive contributions at key moments make him indispensable. The celebrations in front of the away end were memorable.There were other welcome sights, Alexander-Arnold curling home a beauty from 25 yards after Firmino had been fouled – what a fortnight the 20-year-old has had, eh? – while Firmino himself rounded off the scoring in the final minute. It was the Brazilian's first goal in eight Premier League games, and reward for a sublime second-half display from the Reds' No.9. When he plays well, how much better do Klopp's team look?Henderson's dismissal, for a second yellow card eight minutes from time, was the only black mark on the day. The captain will miss next weekend's Merseyside derby with Everton as a result, but at least Liverpool have midfield options to compensate. James Milner and Fabinho got a few minutes off the bench here, while Naby Keita was not used at all. Klopp had no complaints about referee Jon Moss' decision, though Watford were livid that the officials failed to award a penalty when Will Hughes tumbled under Andy Robertson's challenge in the area with the game goalless. A little bit of luck for Liverpool, perhaps, althouigh contact appeared minimal.Elsewhere, midfield remains a slight source of concern dfor Klopp, with Henderson and Gini Wijnaldum lacking a creative spark, especially during a soporific first-half.Their manager had gone for the 4-2-3-1 formation usually reserved for home games, with Xherdan Shaqiri supplementing his vaunted front three, but it took 40 minutes for his team to muster a shot of any description. The opening exchanges were as dull as the Hertfordshire sky.All that is forgotten, of course, when the result goes your way. Results have gone Liverpool's way more often than not this season. This was up there with their best, given the way the afternoon panned out.And so they roll on. To Paris next, and to the derby after that. Big games, big tests, big occasions.Ready? Liverpool are. They may not be flying, but they're making a race of it. While City storm, don't take your eye off the men in Red.By hook or by crook, they just keep on taking care of business. Subscribe to Goal's Liverpool Correspondent Neil Jones' weekly email bringing you the best Liverpool FC writing from around the web
read more
The content of this field is kept private and will not be shown publicly.
Oklahoma State has released its enrollment numbers for the fall 2016 semester and the Stillwater campus has reached an all-time high, at 20,277 (70 more students than the fall 2015 semester.) The total undergrad enrollment combining the Stillwater and Tulsa campuses also broke the previous record, at 21,093 students, according to the Oklahoman.Oklahoma State President Burns Hargis presented the numbers to the meeting of the Board of Regents several weeks ago, explaining that despite a 16 percent budget cut for higher education, tuition was only raised 7 percent."I think this demonstrates not only do we have record enrollment and record fundraising, but we also are maintaining a lower cost than everybody in the Big 12 and way below the average land grant university," Hargis said.This is actually probably pretty close to accurate. According to College Tuition Compare (can't believe that's a real site), it's a battle between OSU, OU and Iowa State for cheapest in-state tuition. Or it was in 2015. The numbers have not been updated to reflect 2016 figures.
Additionally, Hargis stressed how vital Oklahoma State continues to be for the state's overall economy."We bring in from out of state $340 million a year," Hargis told the Oklahoman. "Any economist would multiple that by 3 to 5 times. It's well over a billion dollars in impact."If you're looking for the comments section, it has moved to our forum, The Chamber. You can go there to comment and holler about these articles, specifically in these threads. You can register for a free account right here and will need one to comment.If you're wondering why we decided to do this, we wrote about that here. Thank you and cheers!
read more
PSG VIDEO: Neymar goes to take PSG penalty — but Cavani waves him off! Thomas Floyd @thomasfloyd10 Last updated 2 years ago 06:01 18/9/2017 FacebookTwitterRedditcopy Comments(26)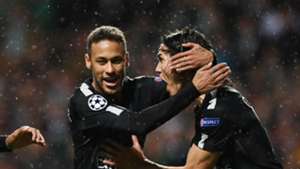 PSG Neymar PSG v Olympique Lyonnais Olympique Lyonnais Ligue 1 Videos The Uruguayan was adamant about taking the spot-kick against Lyon, though he ultimately saw his attempt parried away Neymar may have cost €222 million, but that doesn't mean he's entitled to take Paris Saint-Germain's penalties.The Brazilian star walked up to the spot after PSG earned a spot-kick in the 78th minute of Sunday's Ligue 1 match against Lyon, with Unai Emery's side protecting a 1-0 lead.But Edinson Cavani had gotten there first, and the Uruguayan striker waved off Neymar before seeing his effort denied by Lyon goalkeeper Anthony Lopes. Editors' Picks 'I'm getting better' – Can Man Utd flop Fred save his Old Trafford career? Why Barcelona god Messi will never be worshipped in the same way in Argentina Lyon treble & England heartbreak: The full story behind Lucy Bronze's dramatic 2019 Liverpool v Man City is now the league's biggest rivalry and the bitterness is growing Nobody told Cavani that Neymar gets to take PSG penalties now after this, Neymar might get first dibs next time! pic.twitter.com/HbnMDxqci2 — Goal (@goal) September 17, 2017 That set piece wasn't the only point of contention for the PSG team-mates on Sunday. Earlier in the match, Cavani had his eyes on a dangerous free-kick before Dani Alves took the ball and made sure it ended up in the hands of his long-time friend Neymar.Cavani wants to take a PSG free kick, but Dani Alves has the ball and he wants his BFF Neymar to take it pic.twitter.com/JZQzg6Teu4 — Goal UK (@GoalUK) September 17, 2017 For all of the apparent infighting, PSG still emerged with three points as a pair of late own goals led the Ligue 1 pace-setters to a 2-0 win.
read more
The winner of the United Nations Convention on the Law of the Sea (UNCLOS) Schools' Essay Competition is upper sixth form student of Munro College, St. Elizabeth, Raheem Smith. Upper sixth form student of Clarendon College, Kameesha Beecher, copped second place winner, while Shavine Briscoe, a student of Cornwall College, Montego Bay, placed third. At a prize-giving ceremony held on Friday, December 14 at the offices of the Ministry of Foreign Affairs and Foreign Trade in New Kingston, Mr. Smith expressed the view that the Convention should be included in the schools' curriculum. "Not many people are aware of it and so the essay was a form of allowing students to be aware of it. I think it should be incorporated in the school's curriculum, because it is very important to the development of our country," he told JIS News. Mr. Smith made a power-point presentation on his recent trip to the United States, where he attended a Special Session of the United Nations General Assembly on the Law of the Sea Convention held on December 10 and 11, at the United Nations Headquarters in New York. The five-day all expense paid trip, which was the first prize of the Competition, was sponsored by Caribbean Airlines Limited and members of the Jamaican diaspora in New York. Accommodation was secured by the Jamaica Consulate General in New York. The sixth former said the research information for his essay under the theme, 'Oceans for All; The World's Common Heritage,' was obtained from websites of the United Nations and the International Seabed Authority (ISA). Mr. Smith said he also received advice and assistance from his teacher and thanked the organizers and sponsors of the Competition. "It was an experience that I will treasure for a lifetime. It was my first time in New York and I learnt a lot, especially being at the General Assembly for the first time. I'll treasure the moments," he said. Permanent Secretary in the Ministry of Foreign Affairs and Foreign Trade, Ambassador Paul Robotham, said the Ministry was keen on raising awareness of the importance of the Convention and the fact that Jamaica is the headquarters for the International Seabed Authority (ISA), an autonomous international organisation established under the 1982 United Nations Convention on the Law of the Sea.  "For a small country to be the headquarters for a big international institution is quite an achievement and something that all Jamaicans and school children should be proud of and this exercise should held to spread that message," he said. He pointed out that Jamaica was instrumental in negotiating the Convention including the late former Permanent Representative to the ISA, Dr. the Hon. Kenneth Rattray and President, International Criminal Tribunal for the Former Yugoslavia, Judge Patrick Robinson. The Permanent Secretary also mentioned the role being played by the Chairman of the 30th Anniversary Planning Committee and Deputy Permanent Representative of Jamaica to the International Seabed Authority (ISA), Coy Roache. "He has been there all along and has made tremendous contribution to the development of this Convention and Jamaica's participation in the Sessions," he added. Bringing greetings at the function, Principal Legal Officer at the ISA, Kening Zhang, who represented the Secretary General of the ISA, Nii Odunton, said the recipient of the second prize, Kameesha Beecher, will benefit from a three-week paid internship at the ISA during its annual Session in 2013. He said Ms Beecher will enjoy "hands-on" experience of the work and meetings of the Authority. The Competition was part of a year-long celebration for the 30th Anniversary of the Opening for signature of the Law of the Sea Convention. The Convention was opened for signature in Montego Bay on December 10, 1982 and attracted a record of 119 signatures, the largest number of signatures ever affixed to a treaty on its first day.
read more
Hundreds of kilometres of Nova Scotia highways will soon get their annual spring cleaning with the kick off of the 2007 Adopt-A-Highway program. The province proclaimed today, May 4, as Adopt-A-Highway Day in Nova Scotia to acknowledge the hard work of the program's volunteers. "We'd all be happier if there was no garbage left on the sides of our highways but, since it's there, I'm glad we have Adopt-A-Highway volunteers to help remove it," said Transportation and Public Works Minister Angus MacIsaac. "All Nova Scotians can help these hard-working volunteers by slowing down and being extra cautious when they see these groups at work. More important, drivers can best support these volunteers by not littering." "Adopt-A-Highway volunteers have been making Nova Scotia highways look better since 1992," said Theresa Osborne, co-ordinator, Adopt-A-Highway. "Last year they cleaned 805 kilometres of highway, picking up more than 8,000 bags of garbage, which translates to almost 80,000 pounds." Mr. MacIsaac said volunteers will be wearing fluorescent orange safety vests, but may be fairly close to the road's driving surface as they pick up litter. Adopt-A-Highway is an internationally renowned roadside litter clean-up program. It protects and preserves the environmental health of the landscape and maintains scenic routes for motorists. In Nova Scotia, it is supported by the Resource Recovery Fund Board, the Women's Institutes of Nova Scotia, the departments of Transportation and Public Works, Tourism Culture and Heritage, and Environment and Labour, the Lions Clubs of Nova Scotia, and Clean Nova Scotia. More information about the Adopt-A-Highway Program is available by calling Theresa Osborne at 902-893-6520 or by e-mail at osbornct@gov.ns.ca . Information is also available on the website at www.gov.ns.ca/nsaf/wi/projects/adopt.shtml .
read more
There is a great deal of work underway to focus on improving our classroom conditions for teachers, students and parents. As we move forward with the Council to Improve Classroom Conditions announced last week, we also want to continue to enhance the school experience for students across Nova Scotia. Proms, graduations, drama, band, sports and other student competitions are all important aspects of the school experience, but these activities need financial support and fundraising is often key to their success. We created Student Support Grants in 2013 to try and address fundraising pressures on families, parents and school communities, and to enhance experiences for our students. The objective of the grants is to allow school communities to tailor services and programming to create special student experiences, as well as improve student success. This funding has been used for a wide range of activities including grad photo sitting fees, class trips, instrument rentals and guest speakers. It is also available to help with graduations and award banquets. We remind all parents interested in accessing these grants to contact their child's principal. Last month an additional $3.4 million was put into the grant program to benefit students directly. School principals have the authority to draw on these funds to support activities in their schools. Since the 2014-15 school year, approximately $2.1 million dollars has been allocated to school boards each year. These funds are allocated to all schools in the province with a base amount of $5,000 per school, plus $1.00 for every student enrolled in that school. The additional $3.4 million has been allocated on a per student basis. Any portion of the additional money added this year, that isn't spent before the end of the school year, will be carried over. This will be in addition to what has already been allocated for the 2017-18 school year. We understand there are parents volunteering across this province to ensure students don't miss out on the school activities that make their school year so special. We want to help you do that. Student Support Grants are available to help fund many school initiatives. We encourage you to talk to your school principal about accessing the money available. On behalf of all Nova Scotians I want to acknowledge the many ways in which you continue to get involved in your school communities in order to create the richest, most enjoyable school experience for all students. Thanks also to the many classroom teachers, students and parents who put their names forward for the recently formed Council to Improve Classroom Conditions. We appreciate your desire to take part in shaping the future of our classrooms. We are excited to hear the ideas and solutions you will bring to the table. Together, with your experience and insight, we will improve our classrooms to ensure the best learning environments for teachers and students. For more information on Student Support Grants visit www.ednet.ns.ca/student-support-grants. -30-
read more
TORONTO — A group of doctors has launched a new organization to fight for stronger gun laws in Canada, arguing that gun violence is devastating their patients and communities.Canadian Doctors for Protection from Guns says gun violence should be treated as a public health issue in much the same way as road safety and smoking.The advocacy group is made up of family doctors, emergency room physicians, trauma surgeons and psychiatrists.They are advocating for a ban on handguns and assault weapons, saying gun violence is a public health crisis that must be addressed.The group notes Statistics Canada reports a 42 per cent increase in firearm-related violent crime since 2013.It says it will work with governments, health and legal stakeholders and other Canadians to address the issue."We know the pro-gun lobby is going to try and muddy the issue," CDPG member Dr. Alan Drummond said in a press release. "But our expertise — and our professional responsibility — is in the protection of public health."The group is set to appear before the Senate's standing committee on National Security and Defence studying Bill C-71, which includes changes to the Firearms Act and the Criminal Code, later this month.The Canadian Press
read more
APTN National NewsThe Missing Women Commission of Inquiry has appointed two new lawyers to represent the interests of Aboriginal people at the inquiry.Suzette Narbonne has been practicing law for 22 years, and is now in Vancouver reviewing the information and evidence presented so far. She'll be joined by Elizabeth Hunt, who practices in Williams Lake in northern B.C.They replace lawyer Robyn Gervais, who resigned from the inquiry after stating that it was excluding the voices of Aboriginal people.APTN National News reporter Tina House sat down with Narbonne to talk about the inquiry and what she hopes to accomplish.
read more
APTN National News Boxing is a tough sport but for one woman it has changed her life.Sheena Kaine overcame her difficulties with addiction.Now she is stepping into the ring to teach her daughter how to stay healthy, sober and how to deliver a knockout punch.APTN's Keith Laboucan reports.
TORONTO, United States — Cannabis tech company Namaste Technologies Inc. has fired its chief executive and plans to commence legal action against him as it launches a strategic review process to examine its options.The Toronto-based firm which operates an e-commerce platform and a portal that connects patients with doctors.It said Sean Dollinger's termination from the CEO's position came after an investigation by a special committee of its board of directors, who looked into allegations raised in October by prominent short seller Citron Research.Namaste concluded there were breaches of fiduciary duty by Dollinger. It terminated his employment as CEO and says he'll be removed as a director. Meni Morim has been appointed interim CEO of Namaste.Dollinger couldn't immediately be reached for comment.Namaste says its board has initiated a formal strategic review to consider all "value-maximizing alternatives" which could include a sale of the company or other transactions.The Canadian Press read more
20 January 2010A United Nations independent human rights expert today voiced concern over the deaths of homeless people in India's capital from a cold wave, underscoring the need for adequate shelter to protect them from harsh weather. "The lives of hundreds of homeless people in India are at risk as temperatures near zero degrees," said Raquel Rolnik, the Special Rapporteur on the right to adequate housing. Ten homeless people have lost their lives in the past month in New Delhi, while some 100 people have reportedly died in northern India due to the freezing cold over the last few weeks. The number of homeless people in India has grown since 2007, but the number of shelters for them has plummeted from 46 to 24 in New Delhi, Ms. Rolnik pointed out. This year's Commonwealth Games appears to be driving the closing down of shelters in New Delhi, with public authorities evicting homeless people and tearing down their places of residence in spite of the frigid temperatures. Late last month, the Municipal Corporation of Delhi demolished a temporary night shelter on Pusa Road, leaving 250 people without shelter and allegedly resulting in the deaths of two people. In spite of an order by the Delhi High Court on 7 January requesting the immediate restoration of the shelter and the protection of the uprooted families, authorities have yet to help them. A further 400 people were evicted from an area they were using as shelter at Pul Mitahi, where many construction workers for the Commonwealth Games and Dalit families were living. Ms. Rolnik, who reports to the Geneva-based Human Rights Council, welcomed the Delhi High Court's ruling and urged authorities to "halt the demolition of homeless shelters, to provide immediate assistance and adequate shelter to the affected persons, and not to evict homeless persons in the winter, on humanitarian grounds." read more
"This meeting offers an opportunity to once again demonstrate the commitment of the international community to helping the people of Burundi leave behind an era of great misery and upheaval, and turn their attention to the essential work of recovery, reconciliation and economic and social development," Mr. Annan told the Round-Table Conference in a message delivered by his Deputy Special Representative for Burundi, Nureldin Satti. The Secretary-General called on donors to provide assistance to meet Burundi's emergency needs and to close its budget gap and balance of payments deficit. He hailed those that have made good on past pledges to help the country, and urged others to follow their example."Your discussion takes place at a time when prospects for peace are emerging and when the Transitional Government is implementing an important economic and social recovery programme," Mr. Annan emphasized, calling for continued international support for "these and other steps towards resolving a very complex and volatile situation."Reviewing recent political developments in the country, the Secretary-General said ceasefire talks between the Government and the armed movements have generated momentum. "It is my hope that those talks, which resumed this week in Dar-Es-Salaam, will lead to concrete results and put an end to the long suffering of the Burundi population," he said. read more
Share147 Tweet Email Short URL Image: Google Maps Tweet thisShare on FacebookEmail this article 34,679 Views 3 Comments Cyclist in his 60s dies after being found lying on rural road in Kerry Gardaí in Listowel are appealing for witnesses to come forward. https://jrnl.ie/4568366
Mar 29th 2019, 10:46 PM A stretch of the road where the incident occurred on Wednesday. Friday 29 Mar 2019, 10:46 PM A stretch of the road where the incident occurred on Wednesday. Image: Google Maps By Gráinne Ní Aodha GARDAÍ ARE APPEALING for witnesses after a cyclist in his 60s died in Co Kerry yesterday.It's understood that a hit and run is not suspected at this time.The man was found lying on the road at Coolkeragh on the R552 between Ballylongford and Listowel after 5pm on Wednesday; Gardaí and emergency services were called to the scene. The injured man was removed by helicopter to University Hospital Limerick, where he was pronounced dead in the early hours of Thursday.Following a post-mortem examination earlier today Gardaí in Listowel investigating the circumstances of the man's death have appealed for witnesses.Anyone with information is asked to contact Listowel Garda Station 068 50820 or the Garda Confidential Line 1800 666 111.
read more
Est-ce le schéma de l'iPhone 5 ?Le site internet de Cydia a reçu hier, dans la boîte mail de leur rédaction, un schéma technique concernant un smartphone dont l'apparence ressemble étrangement à un produit déjà existant…Mais avec quelques différences notables.La source est anonyme, mais elle va faire parler d'elle ou plutôt le contenu de son mail ! Le site internet de Cydiablog (lien non disponible) a reçu le schéma technique de ce qui pourrait être l'iPhone 5. Et son examen laisse entrevoir quelques détails fort intéressants.À lire aussiDengue : symptômes, traitement, prévention, où en est-on ?L'écran, tout d'abord : dans la zone indiquée "aire de masque active", où l'écran devrait être fixée, mesurerait 90.1 x 51.42 mm. Ce qui correspondrait à une diagonale d'écran de 103,74 mm, soit 4,08 pouces. Et comme le font remarquer les sites Macrumors et Crave, l'emplacement devant être un peu plus large que l'écran afin de pouvoir y insérer les différents éléments rattachés à l'espace d'affichage, cet écran devrait donc mesurer, in fine, 4 pouces. Par ailleurs, il devrait fournir une vision des contenus en 16/9ème en mode paysage.Deux autres détails se feraient également jour : la position de la caméra frontale se plaçant plus au centre de l'appareil, et la prise audio qui viendrait, dorénavant, se placer au-dessous du smartphone.Si la prudence reste de mise en ce qui concerne la source et les informations de ce schéma, son existence et les photos dévoilées hier matérialisent, jour après jour, l'idée de la présence prochaine de l'iPhone 5.Le 31 mai 2012 à 16:02 • Maxime Lambert
read more
Stay on target Earworms MBT Language Learning Bundle Vol. 1-3 – $14.99See Deal This $500 SEO Tool Is Only $24 TodayThis Easy-to-Fly LED Drone Performs Acrobatic Moves Learning a new language is fun, but reading textbooks and studying flashcards over and over is boring. Fortunately, there's a new way to become fluent in a foreign language by just listening to music: the Earworms MBT Language Learning Bundle.This innovative system uses earworms (songs so catchy that you can't get them out of your head like "MMMBop" or "Baby Shark") to painlessly teach you new languages. All you have to do is listen to them a few times and you'll subconsciously acquire enough words to speak a new language conversationally.Okay, they don't literally use "Baby Shark," but Earworms MBT can teach you Spanish, Italian, German, and French and is great for common situations like getting directions, taking a taxi, or going to a restaurant.Volumes 1-3 of the Earworms MBT Language Learning Bundle normally cost $29.99, but you can get it now for just $14.99, a savings of 50%. Like this deal? Check out Vault — you'll get four premium tools, including NordVPN and Dashlane, to supercharge your online security. Enter code VAULTONE to try it out for just $1!
read more
WILMINGTON, MA – We're One Wilmington recently launched is annual Holiday Gift Program. WOW currently has 20 families in need of assistance.The organization invites residents to visit its website to view the wish list and sign up to donate an item.Please note that WOW does not put up the complete wish lists.  While they make every effort to fulfill them, WOW focuses on essentials before luxuries.  So, if you see an (*) before any item, WOW will not purchase this item if it is not donated.WOW asks donors to label every donated item in order to make the sorting process run smoothly.  Please drop your unwrapped labeled donation(s) to one of the designated locations by Friday, December 7, 2018.WOW will also have items posted on its Angel Giving Tree at the Festival of Trees.Thank you in advance for helping put a smile on those less fortunate this holiday season.  WOW couldn't do it without your generosity.Please contact Pam (pamgrady@yahoo.com) if you have any questions or concerns regarding the Holiday Gift Program.(NOTE: The above information is from We're One Wilmington.)Like Wilmington Apple on Facebook. Follow Wilmington Apple on Twitter. Follow Wilmington Apple on Instagram. Subscribe to Wilmington Apple's daily email newsletter HERE. Got a comment, question, photo, press release, or news tip? Email wilmingtonapple@gmail.com.Share this:TwitterFacebookLike this:Like Loading… RelatedWe're One Wilmington Collecting Christmas Presents For 8 Local Families In NeedIn "Community"We're One Wilmington Asks Public's Help In Donating Christmas Gifts For 14 Local Families In NeedIn "Community"QUESTION OF THE DAY: Do You Know A Wilmington Family Who Needs Holiday Gift Assistance?In "Question of the Day"
read more
New York Auto Show 2019 Enlarge ImageThe Jaguar I-Pace has an EPA-estimated range of 234 miles. Nick Miotke/Roadshow The 2019 World Car Awards ceremony kicked off this year's New York Auto Show, and Jaguar's all-electric I-Pace took home a hat-trick of awards. The 2019 I-Pace was named the overall World Car of the Year, voted by a panel of 86 journalists from around the globe. (Full disclosure: The author is a World Car Awards juror.)"For I-Pace to be awarded 2019 World Car of the Year gives our first all-electric vehicle the ultimate recognition it deserves," Ralf Speth, CEO of Jaguar Land Rover, said in a statement.The World Car of the Year runners up were the Audi E-Tron — one of the Jaguar's closest competitors — and the Volvo S60/V60.In addition to its overall win, the 2019 Jaguar I-Pace took home the World Green Car of the Year and World Car Design of the Year awards. In the Green Car category, the I-Pace beat the Audi E-Tron and hydrogen-powered Hyundai Nexo. For World Car Design, the I-Pace bested the Suzuki Jimny and Volvo XC40.Other World Car Awards winners were the McLaren 720S for Performance Car of the Year, taking top honors over the Aston Martin Vantage and Mercedes-AMG GT 4-Door Coupe. The 2019 Audi A7 was named World Luxury Car of the Year, with the Q8 SUV and BMW 8 Series as its runners up. Finally, in the World Urban Car class, the Suzuki Jimny drove home with the big win, edging out the Kia Soul and Hyundai AH2/Santro. reading • Jaguar I-Pace cleans up at 2019 World Car Awards Apr 19 • Volkswagen's US CEO says around $25,000 would be a smart price for a small pickup Preview • 2019 Jaguar I-Pace: This cat will hunt See All Share your voice 66 Photos • Review • 2019 Jaguar I-Pace: Traditional Jag values, truly modern powertrain Apr 19 • Acura MDX PMC Edition is a hand-assembled SUV in brilliant red paint Electric Cars SUVs More about 2019 Jaguar I-Pace Audi BMW Jaguar Kia May 29 • 2020 Ford Escape: Everything there is to know 2020 Jaguar XE first drive: Even more reasons to consider the underdog Post a comment 2018 Jaguar XF Sportbrake: Capability and hustle combine 2019 Jaguar I-Pace: A spunky electric cat 2019 Jaguar XE SV Project 8 review: The lovable lunatic Tags More From Roadshow New York Auto Show 2019 Jaguar Apr 19 • Check out the gory details in Honda's IIHS crash-tested HR-V 0
read more
)The 2014 Iditarod will easily go down in the books as one of the most memorable. From snow-starved trails to lightning-fast runs, conditions were treacherous for this years field, nearly a third of which have been forced to scratch. Mike Santos is among the many who called it quits in Rohn after a particularly rough stretch after Rainy Pass.But, for Santos, it's not about the race, it's all about the dogs.Special thanks to Frontier Scientists.Part 1 of 3.Part 2: Musher Mike Santos – Ceremonial StartPart 3: Musher Mike Santos – Iditarod
read more